» Home
» Accommodation
» News & Weather
» Activities
» Travel
» Food & Drink
» Out & About
» Culture
» Information
» Property
» Non-Profit
» Contact Us
» Site Search
» Site Map
We welcome writing about Corfu for free publication on AllCorfu.com.
To submit work for consideration click here.
A Ramble in Corfu 60 Years on from Durrell - Wendy Holborow
I have just been indulging in yet another reading of Lawrence Durrell's Prospero's Cell, thoroughly enjoying Durrell's beautiful portrayal of Corfu in the late 1930's, therefore forgive me if I season this article with some of his thoughts, although he said "how little of this can ever be caught in words". But he does it so well. He remarked that Lithgow's sketch of the Island "is as charming and fresh as a watercolour" but Durrell's own painting of the Island is as vivid and vibrant as an oil painting. He once said that if he was to write a book about Corfu "it would not be a history, but a poem." And this he certainly achieved.
How cheated I feel not to have experienced Greece in those days. I have a longing for what I never knew. My love affair with Corfu is barely eight years old, and only seven years have passed since I impulsively decided to move my daughter, then aged eleven, and our dog and cat, to live permanently in Corfu.
Old Spiros is lovingly tending his garden outside our house, the first home we had in Corfu. He is hoeing around rows of red peppers and dark purple aubergines, looking after them as if they were jewels nestling in the sunshine of a velvet lined box. A timeless scene, but his next move reflects the incongruancy of Corfu. He takes his mobile phone from his pocket, gesticulates and talks. Read the rest of the article.
The Heroes of Lefkimmi - Hilary Paipeti
If you turn left just before reaching the coast at Alikes near Lefkimmi, a pot-holed lane leads you to a wide, dusty road junction. Here, amongst the paper and can litter of the roadside, stands a pristine monument in slate-grey granite and white marble. In dazzling full sun the inscription is hard to read, but what it reveals is an almost forgotten episode of World War II, during which the Corfiots - and especially the Lefkimmiots - showed their courage and integrity. Read the rest of the article.
The Rise and Fall of Corfu's Mansions - Hilary Paipeti
We climbed one hairpin bend after another on our way up the mountain. Through the olive groves, the sea appeared in a more vertiginous perspective at every turn. Then, at a little hamlet, we set off on foot along a stone-cobbled path winding through olive trees. Nets were laid out on the ground to catch the fallen fruit - but it was June now, long after the harvest was over, and their presence was evidence that the proprietors no longer took care of their groves. Through the encroaching brambles, we glimpsed a strawberry-tinted wall while, high above, a green shutter rattled in the breeze. Here, on the hillside above Nissaki, we had come across one of Corfu's abandoned mansions. In a region where property on the coast is snapped up, hidden houses in the hills are left to moulder towards decay, for the landed families can no longer maintain the lifestyle of past generations. Read the rest of the article.
A Trip to Sivota - Hilary Paipeti
Several years ago I took a trip on George's Boat, out of Aeolos Beach, to a mainland village called Mourtos. I remember eating fish at one of two or three simple little tavernas, and then carrying on to a deserted cove for swimming. I've never been to Mourtos since, and hadn't been able even to find it on a map. I imagined it must still be too small to rate a mention.
Recently we took a trip on the caique Eros, out of Benitses, destination Sivota. I had heard about this mainland port, and the high class tourism it is attracting. Glossy brochures show sea caves with turquoise and azure water, and a harbour front jostling with expensive yachts and motor cruisers.
Turns out it was Mourtos after all. They changed the name while I wasn't looking. Read the rest of the article.
Boom Town Albania - Hilary Paipeti
In July 1991, in the company of Stavros Karvounis, a Greek journalist, I visited Albania for the first time. The communist regime had recently fallen, and the country was preparing for its first post-war elections. During a ten-day stay, we reached parts of the country where the people had never seen a foreigner, places depopulated by the rush of young men to Greece, hoping for a better life. With only three months' food left, Albania was on the verge of starvation.
I visited again in July 1992, to find a country where the optimism engendered by the approaching elections was fast diminishing. 'When will our lives get better?' one young woman cried as if in pain. 'Take us away! We so much want to have a better life!'
I could provide no vain reassurance, no false comfort. I felt that life would get worse before it could get better. And indeed it did. The people of Albania would suffer the collapse of the Pyramid Banking Scheme (a fraud initiated at the highest level of government), anarchy and virtual civil war, played out against the images on international television of those boat-loads of refugees who would take any risk and undergo any hardship to find a refuge from desperation.
We have lived through years when our island was a magnet for bedraggled and emaciated men looking for work - any work - and somewhere to sleep, even a windowless bothy. Happily, we have seen many of them make a success of their lives. And, visiting Albania again after so many years, I found many indications that the country is on the road to prosperity too. Read the rest of the article.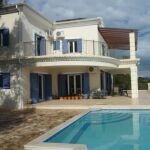 Corfu Premier Property
A selection of the most prestigious, exclusive, stunning & interesting
Corfu Property For Sale