allcorfu.com

Book a Luxury Villa in Corfu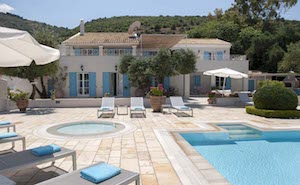 Kalokairi Beach House, Kalamaki Beach
In walking distance of Kalamaki Beach and about 5km from Kassiopi, this very spacious, beautifully presented Villa sleeps up to 16 people via 7 bedrooms each with its own bathroom. Secluded by olive trees and offering breathtaking views over the north-east coastline of Corfu, this villa is a hidden gem.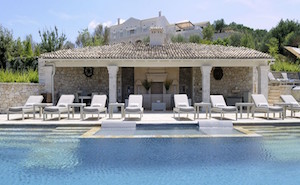 The Kassiopia Estate
This luxury villa in north east Corfu is located on a beautiful, privately owned five acre headland close to Kassiopi. With its spectacular views, beautiful landscaped grounds surrounded by sea and sky, it provides the perfect setting for a truly unforgettable experience.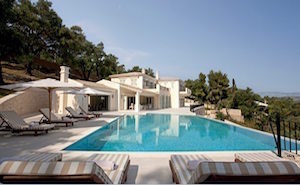 The Stone House, San Stephanos
Sitting amongst olive groves this luxurious property offers ample space for up to eight guests, is air conditioned throughout and equipped to ensure complete relaxation for the duration of your holiday.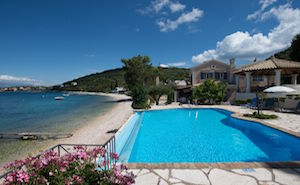 Villa Imerolia, Kassiopi
This wonderful bougainvillea-clad villa boasts an unbeatable location right on the seashore, next to a small fishing harbour. It has 180-degree views south to Kassiopi, which is just a ten minute walk away. The villa is suitable for six persons and has won an Award for Excellence based on visitors' reviews.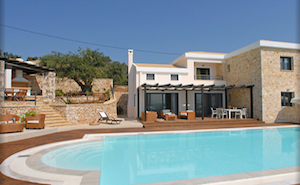 Villa Kaspi, Kassiopi
VIP Villa Kaspi is reached by a private road and it is quite clear as you approach that unlike other villas, it is as groovy and as luxurious anyone could ever imagine. It is equipped with the top of the range bathrooms, leisure equipment, sophisticated furniture and an enormous swimming pool.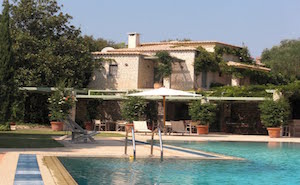 Villa Presidential, Kanoni
This unique estate featured in the James Bond film 'For Your Eyes Only' and adjoins the former royal estate of Mon Repos the birthplace of Prince Philip. It has a panoramic views, beach frontage and beautiful gardens. The villa is equipped to the highest standard and sleeps twelve.