» Home
» Accommodation
» News & Weather
» Activities
» Travel
» Food & Drink
» Out & About
» Culture
» Information
» Property
» Non-Profit
» Contact Us
» Site Search
» Site Map
A Drive Around The North-West of Corfu
Distance – 105 km.
Time – 6 to 7 hours, with stops.
Start and end point - Old Port, Corfu Town.
A drive to the famous resort of Paleokastritsa, followed by a climb over the mountains to Sidari. The return to Corfu Town is via the scenic Troumbetas Pass.
Start at the Old Port in Corfu Town. Drive west along the coast road for 3 km to a big junction, and turn right. Follow signs for Paleokastritsa.
Visit Paleokastritsa.
Return from Paleokastritsa, and at the junction by the Paleo Club, turn sharp left uphill, signposted Lakones. Climb through a succession of hairpin bends to Lakones.
The route passes several restaurants with spectacular views from their roadside terraces.
Reach Makrades. (Go left through Krini to visit the hilltop fortress ruin of Angelokastro.) On the main route, leave Makrades, keeping right at junction. Pass through Vistonas and continue for 7 km to Troumbetas. Turn left here, and descend through several big hairpins, then, at a junction on a right hand bend, go left, signposted Sidari and Arillas. Continue to a big junction and keep ahead for Sidari.
Sidari has enough beach attractions, cafes, tavernas and shops to keep everyone happy.
Return to the big junction and go left. At the entrance to Roda, turn right at a junction, signposted Kerkyra (Corfu Town). Keep right at the next junction. Follow the main road for about 12 km, keeping left at big junctions and climbing through S-bends to reach Troumbetas. Continue downhill through S-bends to the junction with the Paleokastritsa road. Turn left for Corfu Town.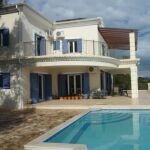 Corfu Premier Property
A selection of the most prestigious, exclusive, stunning & interesting
Corfu Property For Sale